Engaging in local Internet Governance, yIGF Nepal as one of the committee members I was in search of a guiding light to give the best output to the organization and engaging more young people towards the Internet Governance ecosystem. By that time I was overwhelmed by the opening of the APSIG-APrIGF 2022 fellowship application. I applied for it and got selected as one of the fellows among 28 from 19 different countries and this was my first onsite fellowship participation right after COVID-19. Moreover, this time the fellowship had a single hub to be a part of APSIG-APrIGF 2022 and APNIC 54. The presence of wide folk of internet tycoons in a single spot is another exciting part where we can have networking and reunion. Now My heart gets assured that I am partaking in one of the best platforms which will guide me to give guidance to the youth in my local IG organization. Yes, Indeed I was excited for this trip as I want to refresh my networking back on track, engage physically in the policy discussion process for IG related issues, discuss with experts and other local IGs, analyze the issues of different nations, represent my nation and exploring one of my favorite countries from a single window. 
Motivation to participate in regional IG
I heard about APrIGF for the first time when I was a fellow in APNIC 44 which was held in Taiwan. AprIGF is the regional IGF where you can have an equal opportunity to express your opinions by any voice either from a marginalized group, voices from a differently abled person, voices from a low economy nation, and voices from any age group. There was no barrier anyone can raise their voice to admit the internet-related issues of their locality, their nation, and even their aspects. I was amazed by the fact that there are no unheard voices. Then I realize as a female participant from a developing country there is a great opportunity to raise my voice to address IG issues of our nation in this honorable IG platform and also can learn many things therefrom. Since I was extra benefited from the APSIG workshop which was so interactive and demonstrative, gave me a clear picture of the internet ecosystem, and also refreshed my online learning course. This motivates me to start to get deeper into this ecosystem and get involved in APrIGF 2020 as technical support. I used to take part in local IGs from the beginning, however, I was like lost to catch up with the issues and International IG models. Then after participation in APIGA 2019, my interest in IG gets the limelight and gets its pattern. Now I set my thought I will walk more into this trail and by that time I got this golden opportunity to participate in APrIGF-APSIG 2022 Joint Fellowship. My heart burst out with happiness.
My experience at APSIG-APrIGF 2022
This fellowship obviously enlightened me with a bunch of knowledge, broaden my network with peering groups, experienced exploring a new country, try to get to know each others from different economies. I was really excited about the pre-conference, conference, and post-conference tasks/ responsibilities. The buddy group was new for me to share and discuss in small groups. The pre-conference e-learning and buddy meeting really helped me to catch up with APSIG workshops and APrIGF sessions. During the conference also we had a flash talk where we get lots of information on IG issues in different nations and a summary talk where we share our experiences in different ways. The simulation session in the APSIG workshop was one of my favorite key takeaways where I got information on how the issues occur and handles with hands-on exercise. The 13th edition APrIGF conference was also very enlightening with so many interesting topics and bring off this year's theme: "People at the Center: Envisioning a Community-led Internet that is inclusive, sustainable and trusted". I understood the multistakeholder model and bottom-up approach in real. How the policies are discussed and raised the issue to the floor where anyone can come up with their own thought without any barrier or hesitation. All voices are heard on this platform which makes me feel super excited as I do not have such privilege in my working place. Moreover, getting closer to friends from different nations, knowing their language and culture, singing their songs, and laughing can only be experienced in this fellowship. This makes me feel grateful to the organizing team who gave us these opportunities. One more advantage is that this time we are also privileged to participate in the APNIC 54 conference who is more interested in the techno part of the internet. 
Key takeaway
Last but not least the whole package of APrIGF-APSIG and also APNIC was a super blast which is very rare as at the time we were only able to take part in a single conference or workshop but this single trip gave us a huge opportunity to be a part of APrIGF-APSIG and APNIC. Since there was also one more event organized in collaboration with APrIGF and APNIC which is Asia Pacific Youth Internet Governance Forum, it was like the super assembly of all Internet Governance tycoons from youth to experts, from policymakers to technical persons, from every stakeholder group. My journey toward IG will continue and will participate any in local, or regional IGs in any kind of role as a volunteer, technical support, or presenter.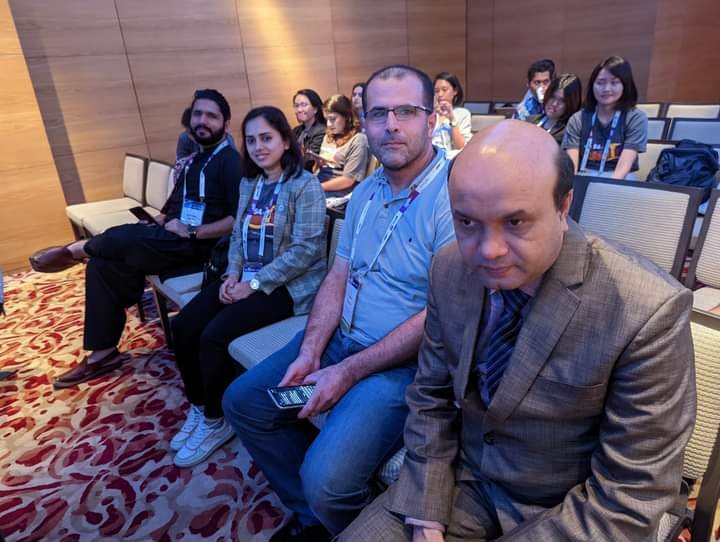 My sincere gratitude
I would like to express my sincere gratitude to the Organizer of APrIGF and APSIG including working/buddy groups with our mentors Satish Babu and Dr.Shishir K.Shandilya who had really helped us during the preconference and during the conference. This remarkable guidance will always be appreciated by me for getting more familiar with such types of conference, their activities, major issues to be discussed, and future perspectives. Nevertheless, the world is round and this networking may again meet at another place may be in a different form.